The Experience… what it looks like and how to enjoy it.
Want to try our wines for the first time?
Want to experience our #1 ranked TripAdvisor wine tasting experience virtually from the comfort of your home?
Need an awesome gift for a wine loving friend?
We created a first of its kind interactive virtual wine tasting experience that anyone can enjoy in the comfort of their home. This is a user friendly and  frictionless experience that is perfect for in home entertaining and educating. 
Using technology you already have in your home we're bringing our top ranked TripAdvisor experience directly to you. All you need is an internet connection… and our wine of course. 
From the comfort of your living room you will virtually taste with our hospitality team (and potentially the winemaker)… You're at home and we're in our Napa tasting room. From there, you taste what we taste. Have questions? Ask! This is a live and interactive experience.
This is a perfect opportunity to entertain friends and family in your home, while enjoying an educational experience and some world class wines.
When you sign up you get everything you need sent to you. The wines come packaged in a beautiful collectible display box and are shipped to you with 100%  satisfaction guarantee.
Along with the beautiful collector's display box and your wines, you'll receive detailed information and advice for hosting and joining us at the live tasting. If you want to stream it on your television, we'll show you how. Want to watch it from your laptop, we'll show you how. However you want to experience it, you can.
Our goal is to recreate our tasting experience that we do here in Napa every day, so we'll send you all the info to do that such as the exact glassware, links to the same cheeses we pair to our wines, and wine preservation gear you'll see us using.
This is a fantastic way to spend an afternoon entertaining your inner circle of wine loving friends.
INTRODUCTORY Price:
$299
Price will increase to $499 soon!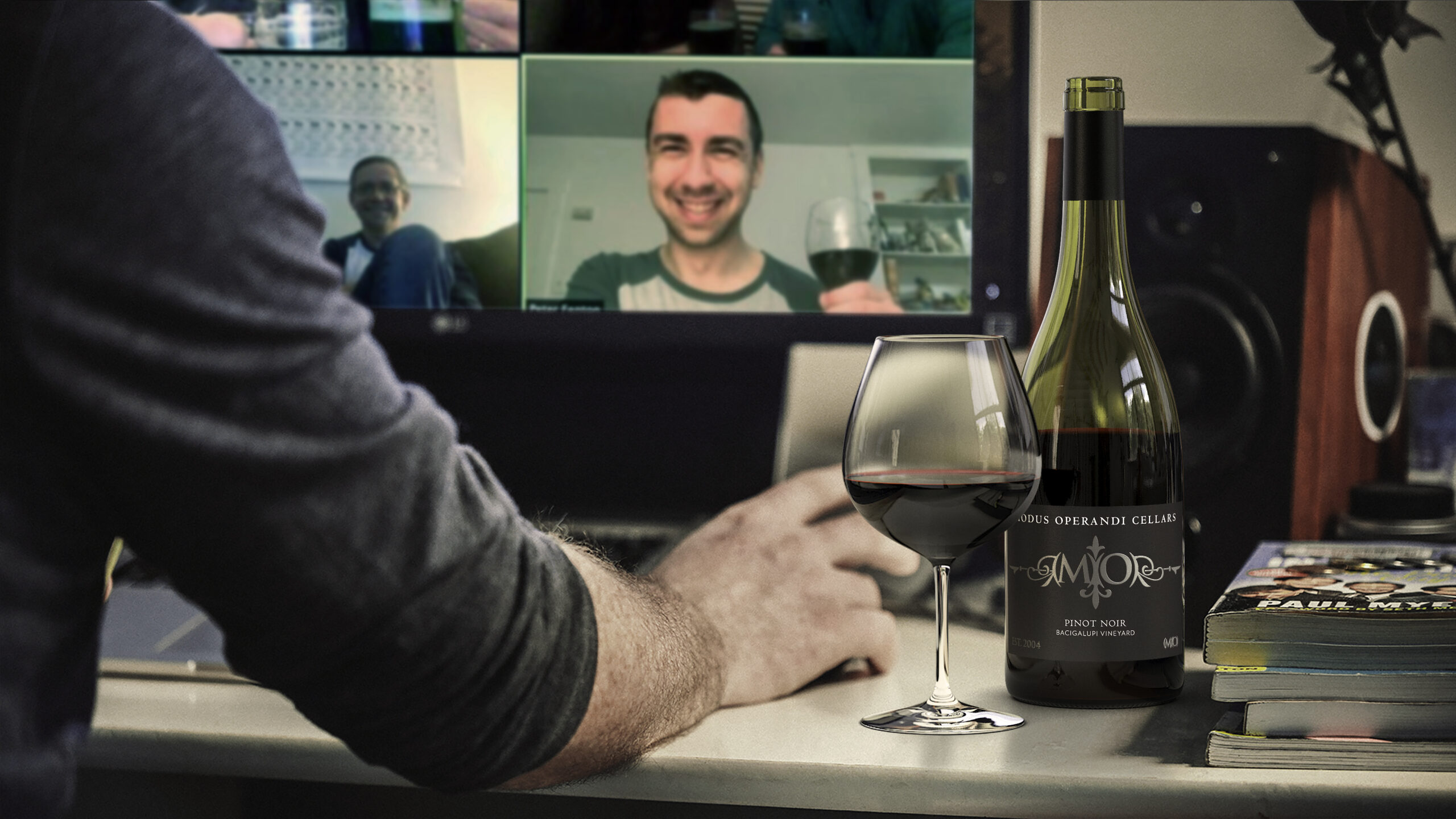 What you get…
4 wines delivered… same 4 we are tasting in Napa:

Sauvignon Blanc
Pinot Noir
Vicarious Red
Cabernet Sauvignon

(Summer months) Only pay for ground shipping… we upgrade to 2 day air.​
4 bottle vertical display collectors box
Tech assistance for a smooth and frictionless experience
Links to products used in the tasting room so you get a full and parallel experience to what's occurring in Napa
Access to purchase additional wine
An invitation to join our wine club
No risk, money back guarantee
Schedule with Calendly
We offer more tasting availability than any other winery… Wed – Sun
All time selections are made after purchase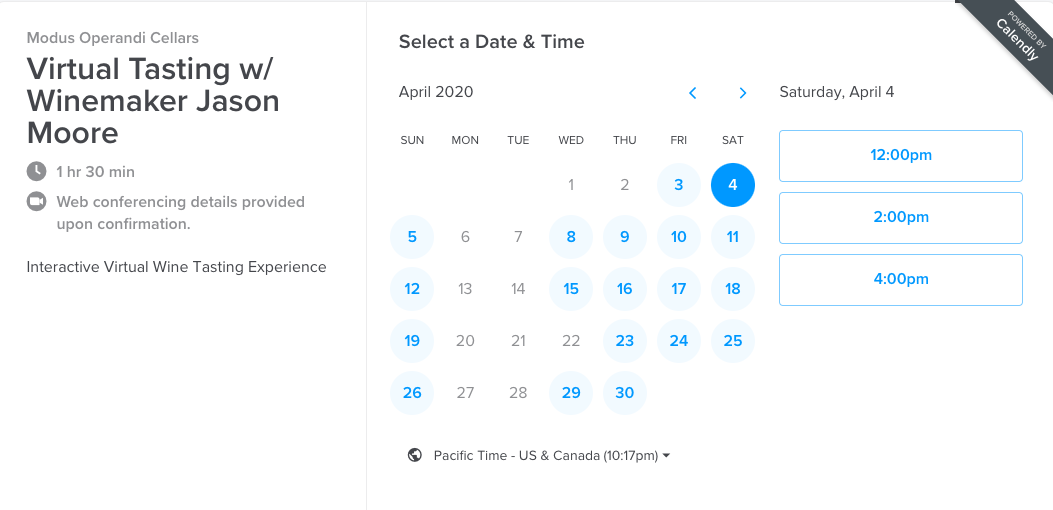 Testimonials
We have really dialed in our virtual wine tasting experience over the last few months and our guests are speaking to us. Testimonials are the highest form of flattery AND social proof.
I think it says something that we have a 100% retention and attention rate from beginning to end on our 1.5 to 2.5 hour virtual tastings!
Here are some of the comments we've received from past attendees…
I found you through the ConvertFlow case study/best-of examples, and was really inspired by how you all are using marketing automation to build a luxury, exclusive brand. It is so well done and I really appreciated seeing this example of how you are creating a luxury brand that is not stuffy or impersonal. I am responsible for marketing and sales for our own rather hard-to-get product, and it is encouraging to see an example of someone doing it so well. Your virtual tasting was inspiring in its frictionless experience, high end packaging, but most of all, the delivery was entertaining, educational, and kept me engaged throughout the entire experience.
Great job!
Kelly – Oakland, CA
Hello Jason,
I have copied my friend Stephen on this email, as I would like to refer him to you because I enjoyed the wine tasting so much and I believe that he would love it as well. The tasting was wonderfully presented and the wines were amazing. We all appreciated the personal and unique experience that made the virtual tasting so incredible. I really felt a connection to the wines through the informative presentation and back and forth dialogue with Caitlyn. After this experience our next trip must be out to Napa Valley to visit Modus in person! Thank you again for the wonderful experience,
Ryan – Ridgewood, NJ
The digital tasting was great! We used the On Demand option so we were able to work it into our schedule at the perfect time. The wines were incredible, and Jason's passion for winemaking is evident not only in the product but in his description of the wine and the production process. The online interface was slick and the videos of the winery were beautifully done. Can't wait til we can visit in person!
Thanks,
Mike – Dallas, TX